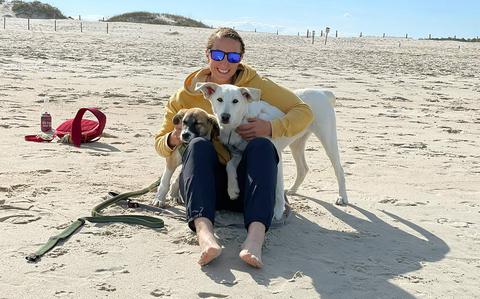 As US troops leave Afghanistan, rescued dogs and cats accompany them
Staff Sgt. Army reservist Katie Catania brought Charley, left, and Flea, right, back to the United States with her from Afghanistan. Catania said she was worried about what would happen to the dogs. (Katie Catania)
Staff Sgt. Army reservist Katie Catania brought Charley, left, and Flea, right, back to the United States with her from Afghanistan. Catania said she was worried about what would happen to the dogs. (Katie Catania)
Staff Sgt. Army reservist Katie Catania brought Charley, left, and Flea, right, back to the United States with her from Afghanistan. The withdrawal of US troops and the violence in the country weighed heavily on his decision to rescue the dogs. (Katie Catania)
A soldier hugs a dog later brought from Afghanistan to America by Chief Warrant Officer 3 Stephanie Hall, a helicopter pilot. Hall was deployed at the Kabul Airport base until February 2021. (Stephanie Hall)
Kabul, Afghanistan – Staff Sgt. Katie Catania found love at Kandahar Airfield, in the form of two puppies.
Charley is the playful player, while Flea is calm and affectionate. Catania was planning to detain one of them, but the impending withdrawal of US troops from Afghanistan and the rise in violence in the country weighed heavily on his decision.
"I didn't want to leave a single one," Catania said. "Not knowing the state of the base and the country itself… If I could give these dogs a better life than just leaving them out there in Afghanistan with an unknown future, then I was going to give it a try."
Catania, a logistics specialist who has since left Afghanistan, has helped move equipment out of Kandahar over the past year during troop withdrawals. The United States is expected to complete its withdrawal of around 2,500 troops by September 11, the White House announced last week.
As the troops leave, others, like Catania, take with them the dogs and cats they have befriended.
Charlotte Maxwell-Jones, who runs a veterinary clinic in Kabul, helps prepare the animals for the long flight between Afghanistan and the United States. year.
"People are calling bases and saying, can we move these animals as soon as possible? She said, adding that of the dogs she shipped to the United States last week, two-thirds were destined for the military.
There is often a rush to move animals when bases close, said Michelle Smith, executive director of Puppy Rescue Mission, which partners with Maxwell-Jones.
"If they close camps and bases, we'll see an increase in rescues," Smith said, recalling an increase during the 2014 troop withdrawal. "The guys closing this place don't want to leave it behind. the animals they feed and care for. "
Troops aren't supposed to befriend local animals, which can carry disease, but they often do.
"You are so busy and you just miss the everyday things… you buckle up," said 3 Chief Warrant Officer Stephanie Hall, a helicopter pilot, who until February was deployed to the airport base in Kabul.
Hall brought back two dogs, Bennie and Mollie, and two cats, Playa and Kiaya.
Getting them from Afghanistan to the United States has been incredibly difficult and complicated at times, Hall said, and cost over $ 3,000.
But the process was well worth it to make sure the animals she cared for would have good lives, she said.
"I didn't want to have regrets and not know what happened to them," Hall said.
Catania went to the airport last week to pick up Charley and Flea. Catania, an outdoor sports enthusiast, wants to bring the dogs to Utah.
"I would really love to take them hiking and exploring," Catania said, "and just spoil them."
[email protected] Twitter: @ jplawrence3