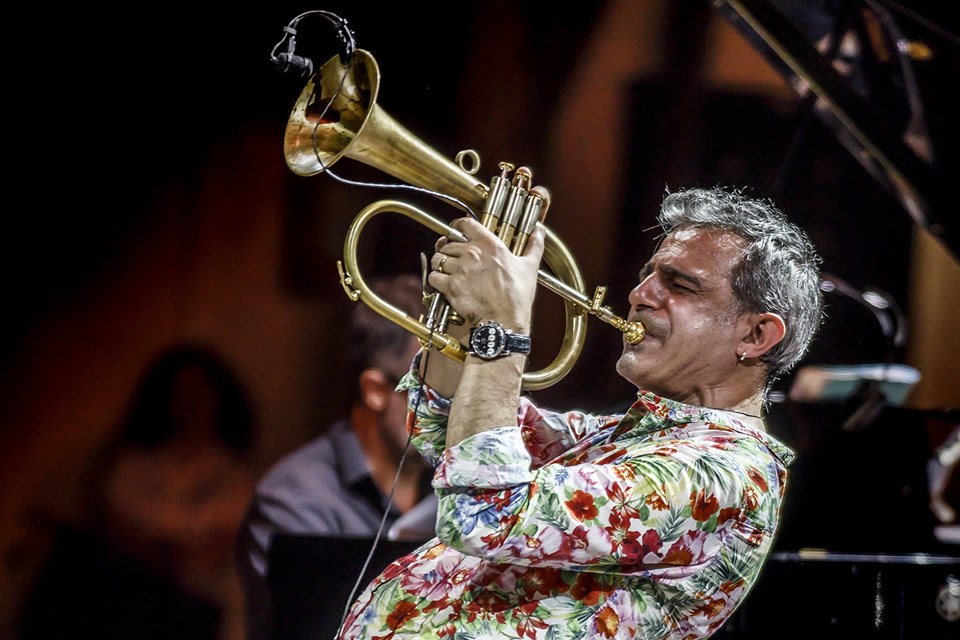 Paolo Fresu and New York Voices shine at the Sicilia Jazz Festival
Sicily is sweltering, even the locals suffer from the intense heat. The second Sicily Jazz Festival fortunately takes place largely in the open air of the capital Palermo, from an old roofless church of the 16th century to the Verdura theater of the 18th century, where the Sicilian Jazz Orchestra (OJS) is the house band, adding big band colors to artists as diverse as the great Sardinian trumpeter Paolo Fresusometimes singer Communards Sarah Jane Morris, New York Voices Manhattan Transfer-style vocalese, Eurovision finalist Raphael Gualazzi and Christian McBride. Diane Reeves and Sarcastic puppy – who, like McBride, play after my stay – are the only headliners without big group. This festival is deeply rooted in the ancient Sicilian brass band tradition and its jazz adaptation over the Orchestra's nearly half-century history.
The Big brass band on the marchEach festival evening's procession through the narrow streets of Palermo is a charming nod to this pre-jazz past. OJS' opening night collaboration with Fresu is more in the style of Sinatra's swing orchestras, as they apply bright brass to "I Thought About You." Tonight's version of its changing line-up rarely takes flight, however, finding neither the jet-engine thrust of classic big band nor its Ellingtonian tones. Fresu focuses on Sardinian ballads, romantic flourishes and pleasant sentiments, as when playing the Neapolitan classic "O Sole Mio", the Italian 'Danny Boy' in its overuse and affectionate nostalgic reservations.
"O Sole Mio' draws a contented murmur from the crowd the next afternoon, too, during the Concertgebouw Dutch Jazz Orchestra's tribute to Sinatra (whose Sicilian heritage is celebrated in the island's My Way museum). It is played with four muted trumpets, ending with a bittersweet sigh. Two OJS guests are highlights, however. Buglehornist Vito GiordanoThe sad and moving solo is rich in character. He plays at his own pace for a breathtaking minute under a pure blue sky. There is no urgency or fulfilment, just self-confidence and the melody. Conductor OJS Dominique Riina is more mischievous, giving a "bellissimo" nod of approval when a passing solo seagull. Singer Trintije OosterhuisThe iPad lyrics for "Come Fly With Me" are considerably less impressive.
Powerful singer Sarah Jane Morris, it turns out, had a big Italian hit in 1989 with "Me and Mrs. Jones," and his OJS gig is a love-in. "I say a little prayer" is dedicated to the premature deaths of the pandemic. Hal David's lyrics to the song make the everyday details of a woman's life transcendent. Here, however, it's carried by Morris' searing strength personality and a hard-hitting protest interpolated "in tempo di guerra", as she roars: "I don't want to know about evil / I only want to know about evil. 'love." The crowd sings along and experiences that feeling, Giordano contributes a booming trumpet solo, and Morris ends his main set with a shout.
Raphael GualazziThe piano is delicate with the brass pianissimo of the OJS at the beginning, but the pop of the disco era blows and Louis Prima dominates. Voice of New York are much better and more sympathetic with the Orchestra, which shows its small-group jazz credentials on "Love You Madly," with its languid, sunny, certain Giordano solo. Percussive vocal harmonies are underscored by trombones on Stevie Wonder's "Don't You Worry 'Bout A Thing" and baritone Peter Eldridge makes "I get along just fine without you" a fragile, vaporous and soothing thing. Kim NazaryanPaul Simon's voice on Paul Simon's "Me and Julio Down By the Schoolyard" confirms the New York vibe that keeps the quartet's head above water.
Small scenes have their moments. In the sandstone vault of the Chiesa dello Spasimo, without a roof and open to the blue evening sky, the Antonella Leotta Quartet playing bossa, all the brushes and the double bass. Valeria Milazzo'From Brazil to France' with the Pierpaolo Petta Quartet reveals a singer of conversational delicacy and poised, finely tapered power. Among the Sicilian jazz students given on stage, the Trio by Federico Terminiit is jackinthebox project stands out. Termini plays semi-classical racing piano and writes with a smooth progressive mentality. He laughs at the end, exuding a youthful optimism. I don't see enough soprano saxophonist Médéric Gebbia's magnetic trioextended to fit French joker Mederic Collignon in a sincere and irreverent tribute to Sidney Bechet. Collignon's Arabian blues dinghies, rubber pipe and cornet playing breathe flamboyant music through every opening.
However, this is mostly a festival where jazz feels like something that happened 50+ years ago, frozen at the time of the creation of Orchestra Jazz Sicilia in its first incarnation of 1973 Brass Group Big Band.
The Brass Group Foundation is behind the OJS and the festival. Its septuagenarian maestro, pianist Ignatius Garsia, once chained himself to a piano outside the Sicilian parliament and went on a month-long hunger strike, protesting the planned diversion of funding from jazz to classical music and opera. Sitting in the gardens of Parco della Favorita, listening to him passionately explain his proud efforts to promote jazz in an island he calls "one of the hardest places to make music in the world", avoided and marked after the mafia wars that killed thousands of people. , and with jazz education in its infancy underpowered, the striking absence of broader jazz currents here makes more sense. This festival was born out of battles that Norway, let's say, won a long time ago. If he sometimes settles in the middle of the road, conservatory students such as Termini and the smuggling punk import of Collignon can sow a braver future.