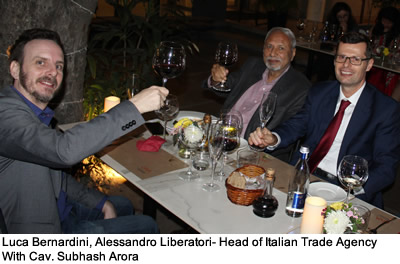 Wines with a twist at dinner Italics Wine Club @Diva
March 12: The Masterclass of Italian Wines organized on March 3 by Il Dolce Vino for Italics Wine Club members, added lots of color with wines from companies specializing in food and wine – Bernelli, Borgofulvia, Essentia and a relatively new family estate in Sicily's Lipari island, Tenuta di Castellaro, paired with the equally delicious cuisine of the Italian Embassy's Diva restaurant, writes Cav. Subhash Arora who led the Masterclass with Luca Bernardini from the Indo-Italian Chamber of Commerce and Industry
Pictures by:: Adil Arora
The venue, outside the Diva Restaurant run under the Italian Embassy Cultural Centre, had a festive atmosphere, not least because the Delhi Wine Club, now in its 20th year (2002-2022) had opened its doors to members to encourage them to also join the Italics Wine Club formed by Angels of Italian Wines. In India 5 years ago to promote Italian gastronomy to Indian palates.
As he told the guests, cav. Arora sub-hash had selected for this Masterclass with Alfresco dinner, 3 wines from large companies specializing in Italian cuisine, wines and spirits from various corners of Italy by selecting wines from small producers: Bernelli, Borgofulvia, Essentia and a relatively new estate on the island of Lipari in Sicily, Tenuta di Castellaro. The wines were accompanied by the equally delicious cuisine of Diva, the Italian restaurant of the Italian Embassy in India, organized by Chief Ankur Kohli.
Diva Restaurant at the Italian Embassy, ​​managed by Ritu Dalmia since its inception, has long established itself as an ideal place for authentic Italian cuisine for the selected members of the Cultural Center. But today he went even further with an alfresco dinner outside the restaurant, in the dining room surrounded by greenery, with perfect weather to welcome guests.
Members of Italics Wine Club and Delhi Wine Club were welcomed with Brinelli Mastero DOC Veneto Extra Dry produced in Veneto and as Arora clarified, the Emilia-Romagna company can sell under its own brand. Cantine Quattro Valli has specially labeled this Mastero DOC Extra Dry wine (with more than 12 g of residual sugar per litre), which makes it a little sweet on the palate for some but very fruity and pleasant on the mid-palate for all and a good match with Burrata salad.
Papa al Pomodoro Ravioli was a great pairing with the fruity Borgofulvia Spumante Rosato Brut Sicilian Land IGT with strawberries in the head and lively bubbles dancing in the mouth. It wasn't very dry; pleasantly sweet for most palates. The persistent and elegant perlage and the delicate floral notes with an intense flavor of rose petals make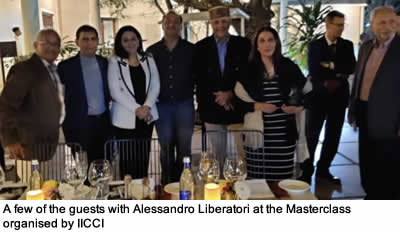 it is a seductive wine. As Luca Bernardini pointed out, it retails for around €4 in Italy and would make a great product for the high-service Indian market.
Different Pizzas with two wines
A variety of pizzas were served at the table with two wines- Tenuta di Castellaro Bianco Pomice Sicilian Land IGT and Essentia Braude Nero di Troia IGP Apulia 2018, the first is an elegant and complex white wine that has to be one of the best and unique Italian white wines I have tasted. The reason was not far to see. Lipari, the largest island in the archipelago northwest of Messina, an entry point to Sicily by train from the mainland, is one of the most beautiful places in Italy not yet frequented by international tourists, which makes it makes it ideal for those looking for nature as a stay. The UNESCO heritage site cannot remain so quiet with an increasing number of tourists who can also stay at its agritourism near the winery.
Lipari is world famous for its dessert wine made from Malmsey of Lipariperhaps the oldest grape variety in Italy (60%) blended with carcinante (40%), the local grape variety of Sicily celebrated in the volcanic region of Etna due to its exceptional minerality.
The ground is full of pumice thanks to the volcanic soil where the lava spat it out under pressure centuries ago. It is also one of the most beautiful areas in southern Italy and also offers wine tourism, with ferries traveling from Messina to this largest island, one of seven in the Aeolian archipelago. . This wine, served chilled, goes perfectly with Margherita and Quattro Stagioni pizzas, generously served. The wine with Carricante fermented in used oak barrels and aged for 6 months, is complex and can age for 5-8 years, making it a unique and very interesting wine, with a slightly salty taste.
Those who ordered pepperoni pizzas were very pleased with the side dish Essentia Braude Nero di Troia IGP Apulia 2018 in synergy with the meaty pepperoni layer of the pizza, a specialty of the restaurant.
The main
The main course was a test for the food and wine pairing. Essentia Barude Nero di Troia IGP Apulia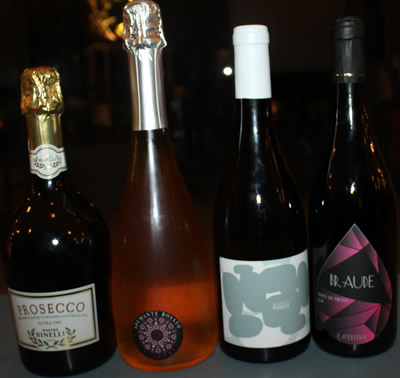 2018 is a dry red wine made from 100% of the local Troia grape variety generally attributed to Greece, Asia Minor or Albania as an origin. Grown in the northern part of Puglia, the wine was a medium-bodied, juicy wine with sour red cherries and blackberries on the nose and a full mouthfeel with slightly elevated acidity. The tannins are elegant with a juicy, homogeneous wine of medium length.
Being a Pescatarian, I ordered Aqua Pazza. This Italian slow poached fish with tomatoes, capers, olives and fennel with a drizzle of olive oil sprinkled, was fresh and delicious (garlic bread would have made it even more appetizing) with good texture and appearance.
Unfortunately, it didn't go well with Nero di Troia. I would then have liked to taste it with the white wine, Bianco Pomice which would have married better. Corn Melanzane Parmigiana (Eggplant Parmesan) might have been a better choice for vegetarians for Nero di Troia. To try and experiment, I asked the restaurant manager and saw Chief Ankur Kohli quickly prepare such a dish; it was orgasmic with the Troia – a perfect match.
The mango and passion fruit mousse with fresh berry tart and raspberry ice cream was a good choice for a grand finale to the Al fresco evening, with a cup of Macchiato providing the crescendo.
For more details on the wine, please visit:
1. http://benellifood.it/en/
2. http://borgofulvia.fpwinegroup.it/en/
3. https://www.tenutadicastellaro.it/en/
4. https://www.essentiaitalianfood.com/it/
A vote for the best wine of the evening, had most takers for the Bianco Pomice with Nero di Troia a close second. A majority of guests also adored the Rose Spumante which will find many takers in India due to its affordable price. Prosecco is always a staple choice for the starter and it did a good job. But, everyone agreed in unison that this was an experimental night they would like to attend again next month.
I would say Jai Ho and Salut à la soir.
Arora sub-hash
MENU
If you like this article, click the like button